Kaip jau minėjau kitoje žinutėje, mano aukšto dažnio generatoriau galingumas yra nedidelis. Iš pradžių, aš nutariau pasidaryti galios stiprintuvą nuo nulio. Bet vėliau prisiminiau, kad kažkur garaže turi mėtytis senas galios stiprintuvas nuo kažkokio istorinio mašinos telefono. Dargi ne GSM laikų. Man pasisekė ir aš jį radau. Stiprintuve trūko vieno galios tranzo- bet man užtenka ir esamo galingumo. Aš gi nenoriu transliuoti visam miestui savo signalų. Patikrinęs internete tranzistorių aprašymus pamačiau, kad iš esamų detalių aš galiu išpešti iki 10W galios. Plokštėje daugybė detalių. Yra netgi išėjimo galios matuotojas ir kitos įvairus niekalas. Aš į juos nekreipiau dėmesio. Taip pat ir nesinagrinėjau tranzo bazių užmaitinimo (pagaminto ant LM723H). Paprasčiausiai pajungiau maitinimą ir radau, kad į bazes paduodama 0.7V nežiūrinti į maitinimo šaltinio įtampą.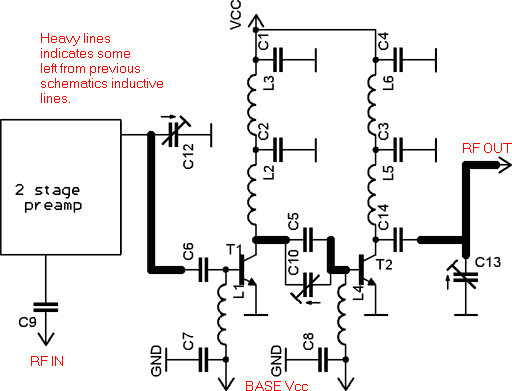 Tai supaprastinta schema. Pastorintos linijos reiškia kažkokias linijas ant PCB. Jos prie 400MHz kažką gal ir reiškia, bet prie 100…
T1: 2N5944 npn Pout=2W, Pin=0.18W; T2: 2N5946 npn Pout=10W, Pin=1W. Tranzistoriai dirba iki 470MHz.
Pirmiausia man reikėjo perstumti stiprintuvo diapazoną. Nuo 400MHz iki 100MHz. Visu tarpkaskadinių ryšių kondensatorių talpa stipriai padidinau. Prilitavau papildomus 18…47pF kondensatorius (kokius radau). Taip pat suspaudžiau droselių apvijas (po testo nusprendžiau juos pakeisti). Taip pat pritvirtinau radiatorių, nes originalusis seniai prarastas.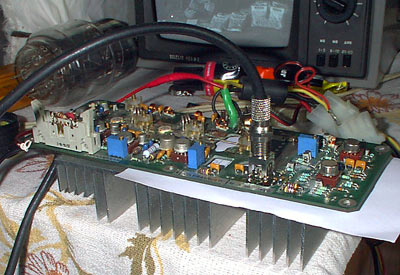 Va kaip viskas atrodo.
Maitinimą padaviau iš kompiuterio maitblokio. Pradžiai naudojau tik 5V.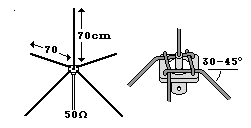 Antena tai standartine 1/4 bangos, 50 omu banginės varžos antena 100MHz. Jo elemento ilgis 70cm. Ją nusikopijavau iš kito interneto puslapio (tingiu versti):
Another suitable antenna is the so-called "Quarter wave Ground plane", as shown in figure. It consists of 5 elements of the same type and length as on the dipole. The center one radiates the signal, while the others make a so-called ground plane. D shows how the elements are assembled with a chassis-mount BNC socket. The middle rod is soldered to the center connector, while the lower ones are soldered in the bolt holes. They could preferable be bent under (an soldered to) the next as shown, to give mechanical strength. These rods should not point straight out, but be bent 30-45 degrees downwards. This antenna has 50 ohms impedance, and should be connected to a 50 ohms cable without a balun. It's important that the antenna is placed high and free. At FM frequencies, the transmitting power don't affect the range much, it's more important to have a clear view towards the listeners. If you put a little effort in finding a good location, you can get quite far even with a small transmitter. The antenna should be placed outdoors (preferably on the roof) since both trees and buildings obstruct FM signals. If someone starts asking, remember that such an antenna is good for reception too!
Pasibandžiau šį "siustuvą" ir atrodo, kad jis veikia. Reikia tik padidinti L2 ir L5 induktyvumą. Jei pernely maži žemajai FM diapazono pusei. Taip pat reikia padoriai pritivirtinti radiatorius- tranzai kaista. Reikėtu kur naus gauti kokį matuoklį kad patikrinti ar gerai susiderino antena-kabelis ir įšėjmo kaskadas.