Kažkada tai buvo labai patikimas ir paprastas būdas gauti ir sumokėti pinigus per internetą. Ir beveik vienintelis būdas atsiskaityti su pirkėjais "on line" Lietuvoje. Deja, geri dalykai baigiasi…
Bidpay interneto puslapyje įdėtas pranešimas:
"Effective December 31, 2005, BidPay.com, Inc. will be discontinuing operations. As a result, BidPay will no longer offer payment services to the online auction industry. We regret any inconvenience to our users and thank them for their loyal patronage. Customer service will remain available at bidpayservice@bidpay.com through the month of February. "
(maždaug tai parašyta: nuo 05 metų gruodžio pabaigos mes rišam su šiuo bizniu. Ačių kad naudojotės mūsų paslaugomis. Pagalba dar veiks iki vasario pabaigos.)
Kadangi paypal sistema dar ne pilnai veikia Lietuvoje, man iškyla problemos su pinigų gavimu iš užsienio. Dabar legaliai beliko tik banko čekiai ir amerikos pašto perlaidos.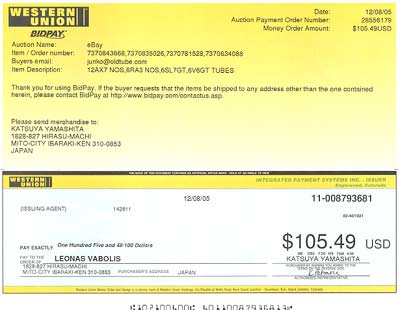 Vienas iš paskutinių bidpay čekių.