Netyčia prisiminiau, kad kažkada vaikystėje radau skautų vadovėlį kažkokiam name ant aukšto. O šiandien netyčia tą knygą vėl atradau savo lentynoje. Taigi susipažinkit, originalus, trečiasis ledimas: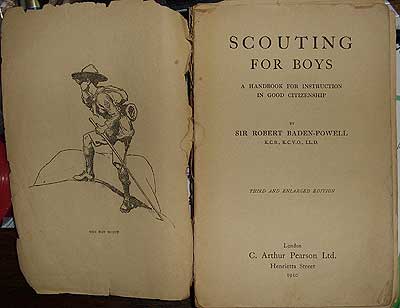 (Didesnis paveikslėlis)
Dedicated by permission to His Royal Highness the Prince of Wales and His Royal Highness Prince Albert
Scouting for boys, a handbook for instruction in good citizenship by Sir Robert Baden-Powell K.C.B., K.C.V.O., LL.D.
Third and enlarged edition, London, C. Arthur Pearson Ltd. Henrietta Street, 1910.
Taigi, knygutei (344 puslapiai) jau šimtas metų.
Knygute išleista dar prieš visus pasaulinių karų neramumus ir kai dar svastika nebuvo išniekinta fašistų: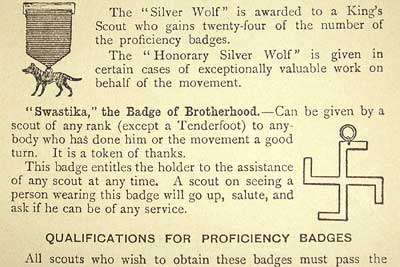 (Didesnis paveikslėlis)
Šiaip knygutė visai įdomi, gaila, kad labai trapi- buvo išleista ant prasto popieriaus, minkštais viršeliais. Titulinis viršelis prarastas, o galinis išliko. Dar labai įdomios reklamos knygos gale: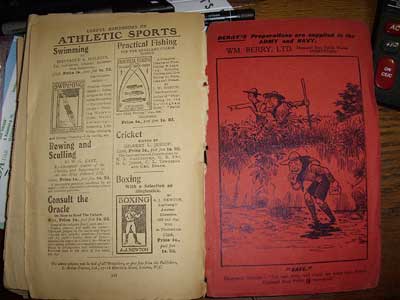 (Didesnis paveikslas)
Įdomiai čia- prie atletiškų sportų priskirta ir žvejyba ir ateities spėjimas 🙂 (žr. apačioje, kairėje)