Katyk pralėkė Windows 10 naujas updeitas ir kaikuriuose kompuose atsirado English (UK) kalba. Arba neištrinama English (UK) prie esamos English (US). Nors niekas to neprašė. Ir nelabai išsiinstaliuoja. Jei pas ką nėra US kalbos, rekomenduoju ją visdėlto suinstaliuoti. (Šiaip tai dėl @ simbolio labiausiai drigina). Tačiau ką daryti su nepašalinama kalba?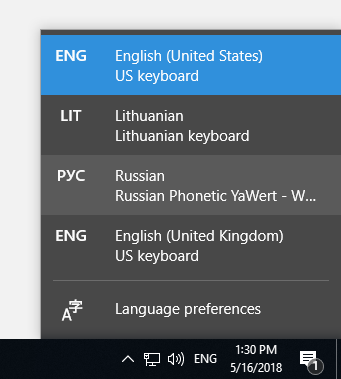 Nes nei UK nei US nenusiinstaliuoja- Remove mygtukas neryškus. Šiaip šiame kompe UK kalbos niekada nebuvo. O šiandien- Welcome!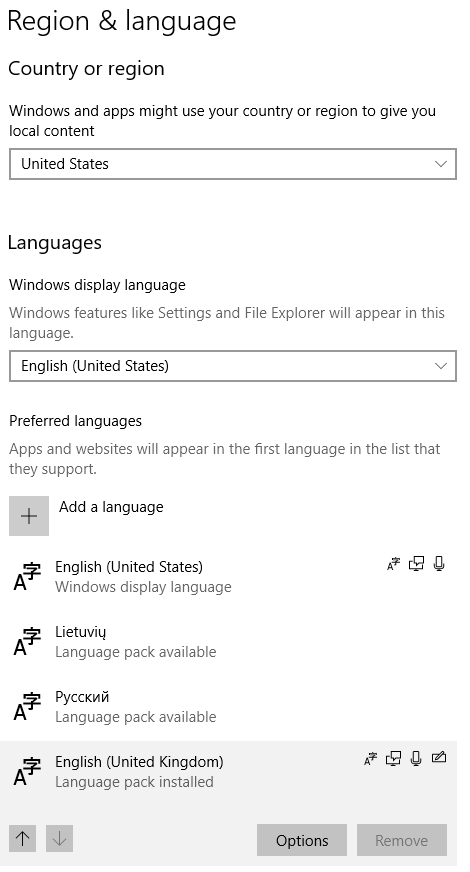 Kalbų "remove" neveikia, net ir tada, kai default language kitoks.
Čia mums pagelbės gerasis regedit.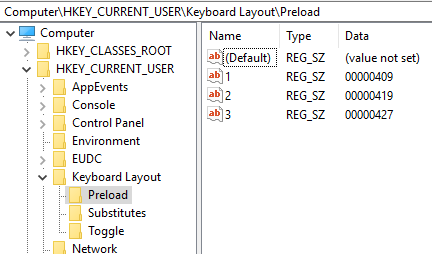 Šakoje "Computer\HKEY_CURRENT_USER\Keyboard Layout\Preload" reikia pašalingti nereikalingas kalbas. Kalbos užkoduotos slapta microsofto kalba. Todėl reikalinga atkodavimo lentelė:

 A table of the codes to the countries is given below:
00000427        Marijos žemė (Lietuviška)
00000402 	Bulgarian
0000041a 	Croatian
00000405 	Czech
00000406 	Danish
00000413 	Dutch (Standard)
00000813 	Dutch (Belgian)
00000409 	English (United States)
00000809 	English (United Kingdom)
00001009 	English (Canadian)
00001409 	English (New Zealand)
00000c09 	English (Australian)
0000040b 	Finnish
0000040c 	French (Standard)
0000080c 	French (Belgian)
0000100c 	French (Swiss)
00000c0c 	French (Canadian)
00000407 	German (Standard)
00000807 	German (Swiss)
00000c07 	German (Austrian)
00000408 	Greek
0000040e 	Hungarian
0000040f 	Icelandic
00001809 	English (Irish)
00000410 	Italian (Standard)
00000810 	Italian (Swiss)
00000414 	Norwegian (Bokmal)
00000814 	Norwegian (Nynorsk)
00000415 	Polish
00000816 	Portuguese (Standard)
00000416 	Portuguese (Brazilian)
00000418 	Romanian
00000419 	Russian
0000041b 	Slovak
00000424 	Slovenian
0000080a 	Spanish (Mexican)
0000040a 	Spanish (Traditional Sort)

Pašalinus lyšną: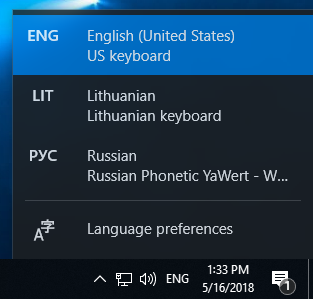 Galima mažiau nervuotis ir toliau bandyti šalinti Anglų-anglų kalbą.
Bet jei vėl nueisit į lnguage nustatymus, ta B… anglų kalba vėl atsiranda. Gerai, kad perkrovus lieka 3 kalbos. Dabar reikia aiškintis kaip pašalinti šitą anglų experience pack!
Bandom nuinstaliuoti…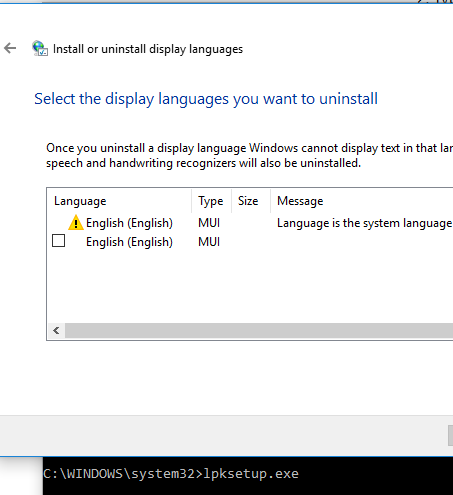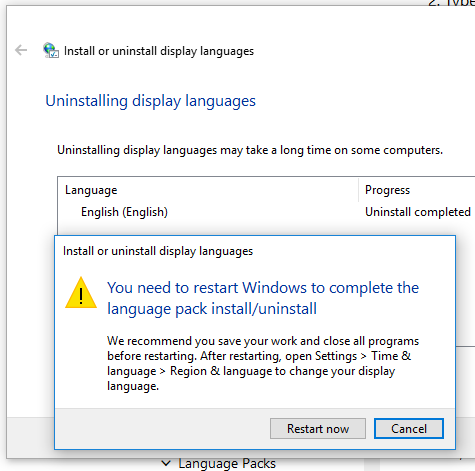 Perkraunam…. niekas nepasikeičia. Tačiau dingo USA! Bl… Užtat jau galime eiti į language settingus ir žiūrėti drąsiai į kalbas. Bent jau pas mane papildoma klavietūra neatsirado.
Pastebėjau, kad šita bėda atsirado pas neseniai nupirktus kompus kurie pirkosi su instaliuotais windowsais. Ten kažkodėl prie Lietuviškų windowsų yra UK variantas. Kalba kaip ir tinkama, o klavietūros išdėstymas nebetinka. Įdėjus US klavišus ir pašalinus UK viskas veikė iki updeito.